What to Do After a Golf Cart Accident
Accidents can be overwhelming, intimidating, and scary. After an accident, you may be confused, hurt, or in shock, and that may make it hard to know what to do. In the immediate aftermath of a golf cart accident, whether it be with another golf cart or an automobile, there are certain steps you should take to protect yourself and your rights.
If you or a loved one are ever involved in a golf cart accident, remember the following steps:
1. Check for injuries.
First, check yourself for cuts, scrapes, and any other injuries. Next, if you're able to, make sure anyone else who might have been involved in the accident is ok. If there are serious or life-threatening injuries, call 9-1-1 right away.
2. Move any damaged vehicles to a safe place, if possible.
If you're able to, and it can be done safely, try to move the vehicles involved out of the roadway. This cuts down on the chances of debris causing another accident and makes the situation safer for all involved.
3. Call law enforcement.
If you haven't already contacted the police, you should do so now. Even if there are no injuries, most situations in North Carolina require you to contact the police so a report can be filed. This step is critical, as it might come into play if you end up contacting a lawyer or need reimbursement for your injuries. Make sure you get a copy of the police report and the name and badge number of the officer who files it.
4. Collect as much information as possible.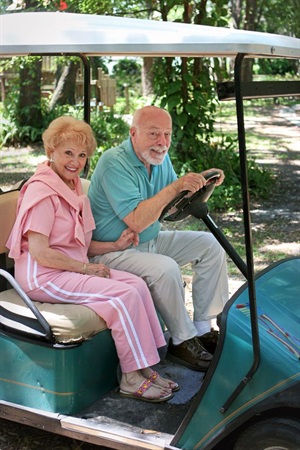 After a golf cart accident, it's always a good idea to gather the names, contact info, and insurance info from each individual involved. You should also take notes about your surroundings, what the weather was like, the name of the street you were on, etc. Additionally, you should take as many photos as you can of the accident scene, road signs, injuries, and any damages to vehicles and/or property.
5. Look for witnesses.
A witness testimony can be a valuable tool after any accident. If you notice anyone nearby who may have seen the accident, as for their contact information and see if they'd be willing to testify in court, if necessary.
6. File a claim with your insurance company.
While you shouldn't give any statements to an insurance company before you have the chance to speak to an attorney, you do need to let your insurer know you were in an accident. Provide them with the basic information they need to file a claim for your golf cart, but avoid details or sharing your opinions until your lawyer can be present.
7. Consider contacting a personal injury attorney.
Any time you are involved in an accident, it's a good idea to schedule a consultation with an attorney who specializes in personal injury cases. Not only can an attorney help protect your best interests if the other parties involved choose to sue, but they may be able to help you seek compensation from the at-fault party to cover the cost of your injuries and resulting medical expenses.
Remember, the best way to avoid a golf cart accident is by following our
golf cart safety tips
and
local traffic laws
. And if you have any questions, don't forget to check out our
golf cart traffic law FAQs
! If you have any additional questions or would like to
schedule your next golf cart rental
, give us a call at 910-707-0926.