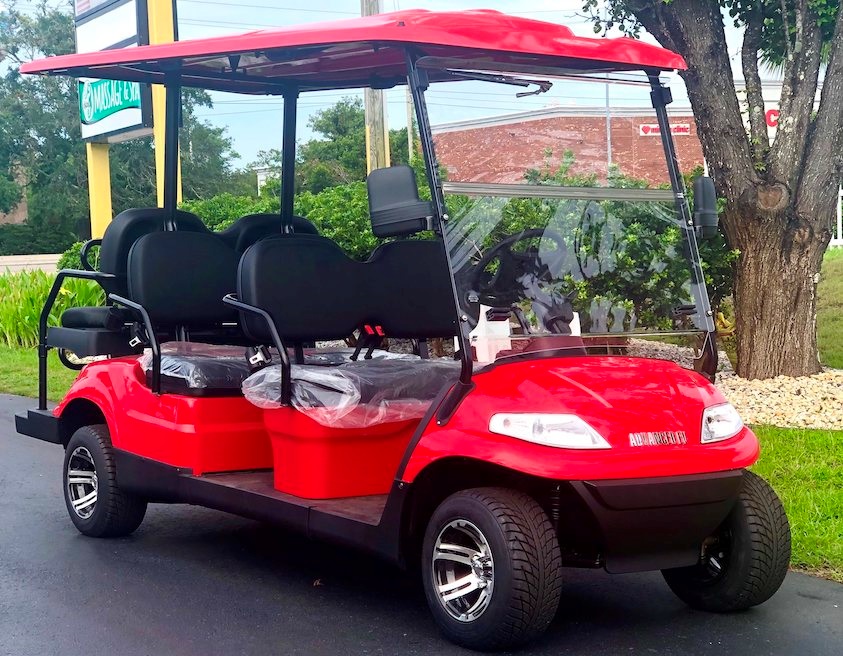 Meet Our New Partner: Advanced EV
SunFun Rentals has a new partner! Based out of Rosenberg, TX, Advanced EV produces an impressive line of golf cars with special features to maximize power, speed, and safety. With over 35 years of industry experience, Advanced EV has incorporated all of the best golf cart features into their AEV golf car lineup.
Here are some of the key benefits Advanced EV has to offer:
1. AC DRIVE
Each AEV golf car is powered by an AC (alternating current) drive system. Combined with a 350A Toyota Controller and 4-kilowatt motor, an AC drive gives you greater acceleration abilities. The alternating current system also improves your golf car's torque and ability to climb over more challenging terrain.
2. GREATER SPEED.
Advanced EV believes faster is better and speed doesn't have to come with the side effect of a bumpy ride. With AEV golf cars, you can travel at greater speeds and distances than with conventional golf carts, all while enjoying a smooth ride. AEV drivers and passengers can take their golf cars up to 25 miles per hour, giving them greater freedom than drivers of traditional carts.
3. STANDARD SAFETY FEATURES.
Rather than having to upgrade your golf cart with all the best safety features, AEV golf cars come decked out in all the safety features you need: brake lights, headlights, taillights, turn signals, seatbelts in every row, and safety bars for rear-facing back seats.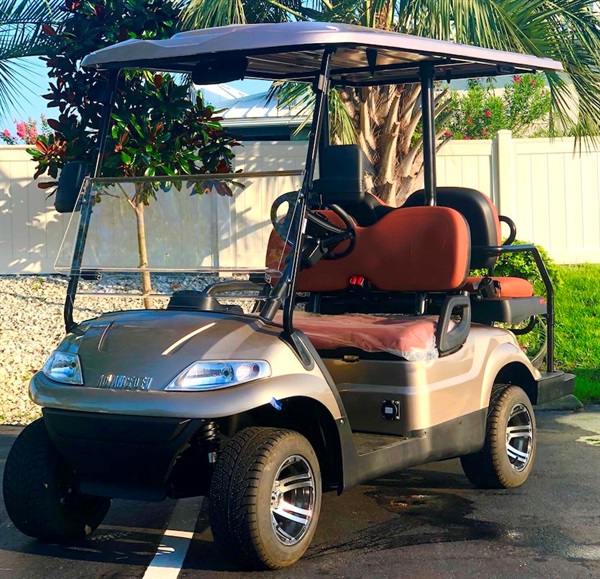 4. LARGER RANGE.
All AEV golf cars are equipped with a quality battery back that provides drivers with exceptional runtime on a single charge. AND the battery quality will endure over a long period of time! Advanced EV's Pro Charging Systems offer complete and quick charges, and AEV golf cars are built with regenerative braking that saves energy and allows you to get the most out of each charge.
5. STREET LEGAL.
Advanced EV builds its golf cars to meet the requirements for street-legal golf cars or LSVs (low-speed vehicle) in many locations. If your jurisdiction requires additional features, like a solid-state windshield, reflectors, four-wheel brakes, a safety triangle, or a plate light, these additions can be incorporated easily onto any AEV golf car.
6. KEY STANDARD FEATURES.
Advanced EV equips its golf cars with all of the following key features:
Speedometer
State of Charge Meter
USB Charging Ports
Headlights
Taillights
Brake Lights
Turn Signals
Horn
Seat Belts
Side Mirrors
Advanced EV golf cars come in 8 unique colors and can seat 2, 4, or 6 people. Whether you are looking for a golf car for travel, work, or leisure, Advanced EV can offer you all the very best features you need for a smooth, enjoyable ride. Buy your AEV golf car today by clicking here or calling us.