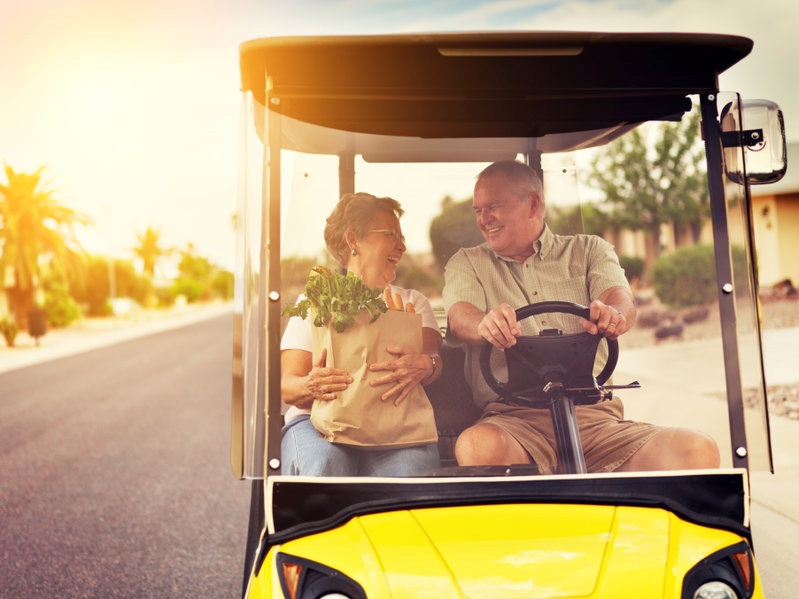 Top 12 Benefits Of Owning A Golf Cart
Are golf carts only meant for golf? No, silly! Golf carts are great for a wide variety of activities, from work to play. There are a ton of reasons you should consider a golf cart over other forms of transportation. We've listed a few of the best reasons below.
1. SUSTAINABILITY.
Want to reduce or eliminate your carbon footprint? Gas and electric golf carts are not only good for quick, short-distance travel, but they're also a great way to protect the environment.
Petrol-powered golf carts have exceptional gas mileage and create very low carbon emissions, especially when compared to traditional cars and SUVS.
Electric, battery-powered golf carts allow you to drive without releasing any carbon emissions whatsoever.
2. EASY NEIGHBORHOOD TRAVEL.
From visiting your neighbors to hitting the neighborhood pool, gym, or tennis courts, a golf cart provides a quick and easy way to travel around your neighborhood when it's just a bit too far to walk.
3. PRACTICAL HELP FOR WORK.
If your work requires you to take lots of trips back and forth to transport items, equipment, or people, a golf cart could relieve you of your heavy load. Here are a few example of workplaces where a golf cart would be reasonable and helpful:
University campuses (and any other kinds of "campuses")
Retirement communities
Farm, orchards, and ranches
Event management facilities (like catering halls, wedding venues, sporting arenas, etc.)
4. SMOOTHER ROUNDS OF GOLF.
When you golf a lot or live in a golf course community, you'd probably rather spend more time swinging your clubs than lugging them around the course on foot. And although many golf clubs offer rental golf carts, it can be cheaper and more convenient for you to have your own.
5. OUTDOOR ACCESSIBILITY.
Are you a big fan of camping, fishing, or hunting? Because of their smaller size and weight, golf carts can take on narrow, off-road spaces that traditional cars, trucks, and SUVs just can't. For hunting, golf carts offer a quieter ride and camouflage customization options that won't scare your prey. And with the right tires and lifts, your cart can handle rougher terrains.
6. AFFORDABILITY.
Golf carts are far less expensive than other traditional transportation options. Most brand new carts are only a fraction of the prices of used and new cars. Operating, insurance, and maintenance costs are exceptionally low, as well. Plus, you'll have your golf cart for a long time; they can have a lifespan of 20 or more years.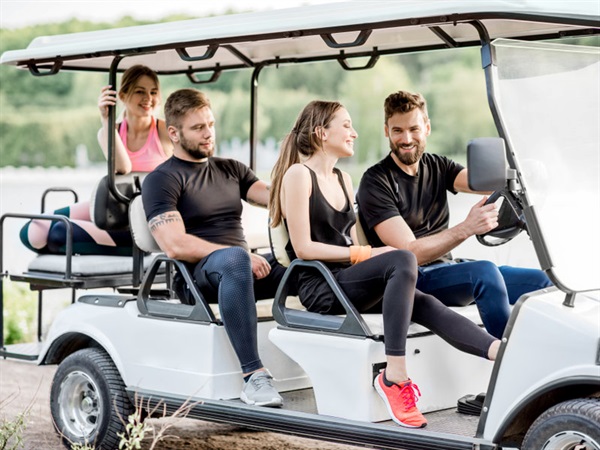 7. PUSH TOWARD STREET LEGALITY.
More and more North Carolina towns are opening up the streets to golf cart drivers. In many parts of North Carolina, you can drive your golf cart on public streets with a speed limit of 35 miles per hour or less if it has all the correct safety features. Remember, in many areas, like Carolina Beach , you may have to purchase a specific permit to drive and park your cart.
8. ENDLESS CUSTOMIZATION.
You can make your golf cart uniquely your own with the seemingly endless customization options available to you. Want cup holders, a cooler mount, or patterned seats? For a more enjoyable and accommodating ride, SunFun can help you add any golf cart accessory or customization you want.
9. SIMPLE MAINTENANCE.
Not only is golf cart maintenance a lot cheaper than traditional car maintenance, but it's relatively easy, too. Golf carts are considerably simple machines, and with proper care and attention , you can avoid big, expensive fixes.
10. ASSISTANCE FOR PHYSICALLY DISABLED.
Golf carts' ability to get closer to entrances and exits than traditional cars and other forms of transportation make them ideally suited for transporting people who have physical disabilities or limitations. And it's slightly easier to get in and out of golf cart seats than car seats.
11. BETTER BEACH TRIPS.
After a relaxing trip to the beach, you'll inevitably bring unwanted sand back into your vehicle. Those small grains of sand can be challenging — and sometimes impossible — to clean out of your traditional car. Fortunately, golf carts can be sprayed down with water, allowing you to get rid of the sand with relative ease. Plus, in some areas, you can drive your golf cart right onto the beach!
12. GOOD DRIVING PRACTICE.
If your teenager is 16 and has just received a driver's license, practicing with a golf cart can be a great way for them to become more comfortable navigating the road. With increased visibility and maneuverability, golf carts make it easier to understand and get comfortable with road rules.

Have we convinced you it's time to buy a new golf cart? SunFun offers a wide selection of excellent golf carts for you to choose from. Have more questions about golf cart rules and capabilities. Give us a call.