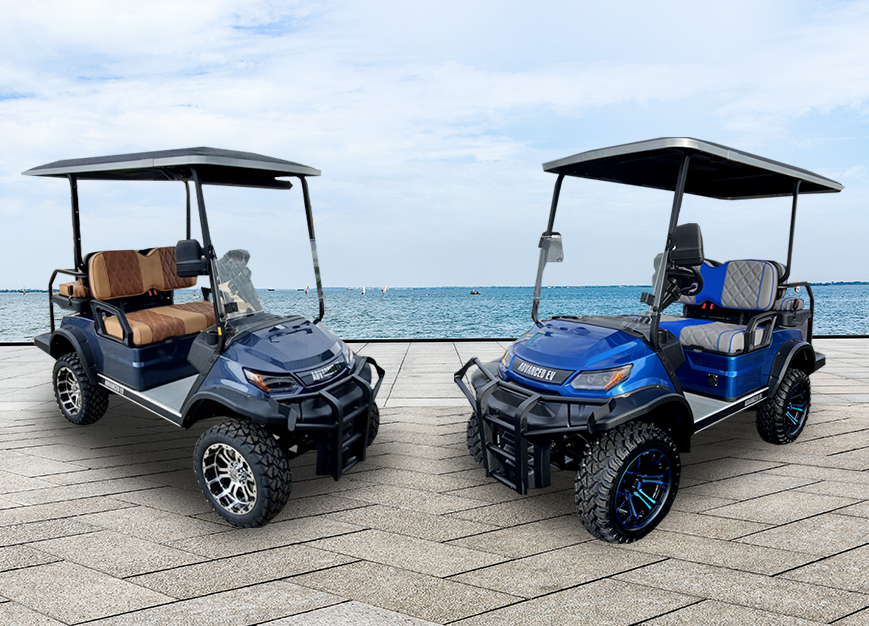 Platinum VS. Limited Edition Advanced EV Carts — What's the Difference?
Ready to "elevate your style" in your brand new luxury golf cart?
We've been getting lots of questions about our stunning Advanced EV carts. We offer two luxury packages — the
Platinum Package
and the
Limited Edition Package
.
But how are they different?
Let's take a look.
ADVANCED EV PLATINUM PACKAGE
A cart that is luxurious and customizable? Yes, they exist. Our Advanced EV Platinum Package may be just what you need. Here are the details:
Slick blue paint. Our Platinum Package carts come in a sleek blue color.
Custom rims. Choose from a variety of rim options to find that perfect look for your brand new golf cart.
Custom seats. What's your preferred golf cart seat color? When you choose the Platinum Package, you can pick from a variety of color options. Plus, the seats are diamond-tufted with double stitching and a little extra padding for greater comfort while driving or riding.
105 AH lithium battery (with available upgrades). Travel with a 20-mile driving range and avoid the hassle of maintenance. With Advanced EV's lithium batteries, you won't have to put distilled water in your battery. Plus, these batteries last 10 years, far longer than regular lead acid batteries. Regardless, you'll get a 5-year warranty.
Comes with a lift. Your Platinum cart comes with a lift kit already installed.
ADVANCED EV LIMITED EDITION PACKAGE
Want more options? Ask us about our Advanced EV Limited Edition carts. They're as luxurious as you can get!
Variety of paint options. Yes, we sell carts in other colors than blue. Choose from Velocity Blue, Tiffany Blue, Cinnamon, Pepper Dust, and Atlantic Blue.
Upgrade to a 255/45 R-14 Fusion tire. High street performance. Smooth ride. Low road noise. Oh my! With these upgraded tires, your new golf cart will have more edge.
Luxury seat skins. Either double-diamond stitched or bolstered, you'll get your choice of our classy but comfortable vinyl seat skins. They come in a sleek black, smooth grey, or saddle brown.
Advanced 200 AH lithium battery. With this battery upgrade, not only will you get the 5-year warranty and avoid the demands of regular maintenance, but you'll also be able to take your golf cart 40 miles longer with a single charge.
Marine-grade subwoofer. The 8-inch Wet Sounds Stealth Subwoofer means louder music and a truly impressive bass.
Marine-grade sound bar. Positioned on the right side of your cart, next to your windshield, the Wet Sounds Stealth 10 Ultra HD Sound Bar is sturdy, reliable, and connected with Bluetooth.
Lifted or non-lifted. Most Limited Edition carts come pre-lifted, but there are non-lifted carts available.
Both the Platinum and Limited Edition Advanced EV golf carts are
available street-legal and non-street-legal
and come with
5-year warranties
. Plus, the SunFun service team can hook you up with
any accessory or addition
you'd like
.
Want to buy one of our stunning Advanced EV golf carts?
SunFun is the exclusive Advanced EV dealer and manufacturer.
Have more questions about the Platinum and Limited Edition Packages?
Give us a call
.