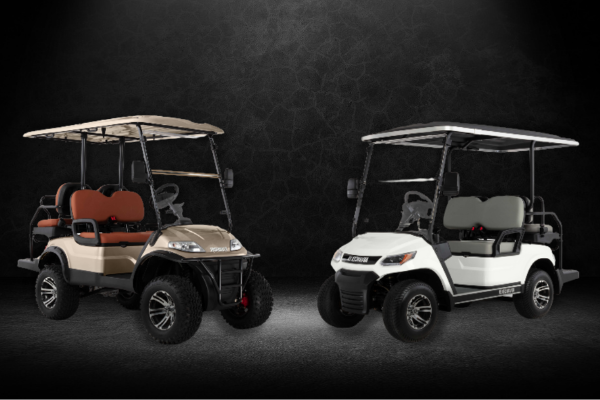 Advanced EV Golf Carts: What are Your Style Options?
Every single one of our Advanced EV golf carts offers an impressive list of desirable features, including (but not limited to):
AC drive for maximum acceleration
Powerful speed capabilities
High quality safety features
And exceptional driving range
However, each Advanced EV style comes with its own unique characteristics and benefits. At SunFun Golf Carts, we offer two top-notch styles that will bring your ride to the next level:
EV1 SERIES GOLF CARTS
An Advanced EV classic, golf carts in the EV1 series are known for their simplicity, reliability, and efficiency.
Here are some of our customers' favorite aspects of the EV1 lineup:
Larger, easy-to-see digital display – If you're one who doesn't like to mess with a complicated, compact digital display, an EV1 golf cart may be the best fit for you!
Greater color selection – EV1 series golf carts come in a wide variety of colors, including a unique Lime Green and beautiful Sky Blue.
Lower cost – Simple but effective, the EV1 golf carts perform well and get the job done – for a slightly lower price.
ADVENT SERIES GOLF CARTS
An upgraded luxury series, the Advanced EV Advent style golf carts are specifically designed to achieve top-tier performance and withstand humid climates – like that in the coastal Carolinas.
Here's what impresses our customers most about the Advent golf carts:
Aluminum floorboards – The non-slip floorboards are highly durable, boasting an exceptional resistance to corrosion and aging.
More plastic components – Unlike metal, plastic does NOT rust. Featuring considerably more plastic than metal, the Advent series golf carts are uniquely equipped to manage salty, humid air.
Double powder-coated metal – The parts of the Advent carts that ARE made of metal are covered with two protective layers that guard against the elements.
Higher ground clearance – Although you can buy lifted OR nonlifted Advent golf carts, even the nonlifted option still comes with a 2-inch lift.
Better for entertainment – With a bigger dashboard, smaller digital display, and more room for cupholders, an Advent golf cart lends itself to your passengers' heightened leisure and amusement.
NOTE: Both the EV1 lineup and Advent lineup include 4-Passenger and 6-Passenger options. And regardless of the cart style, you can add any of the following accessories:
360-degree cup holders
Underbody lights
Beach chair rack
Bluetooth radio
READY TO SEARCH FOR YOUR OWN ADVANCED EV GOLF CART?
Learn more about our Advanced EV Platinum and Limited Edition package options or browse all of our available golf carts!
Have any questions?
Send us a message
, or
give us a call!