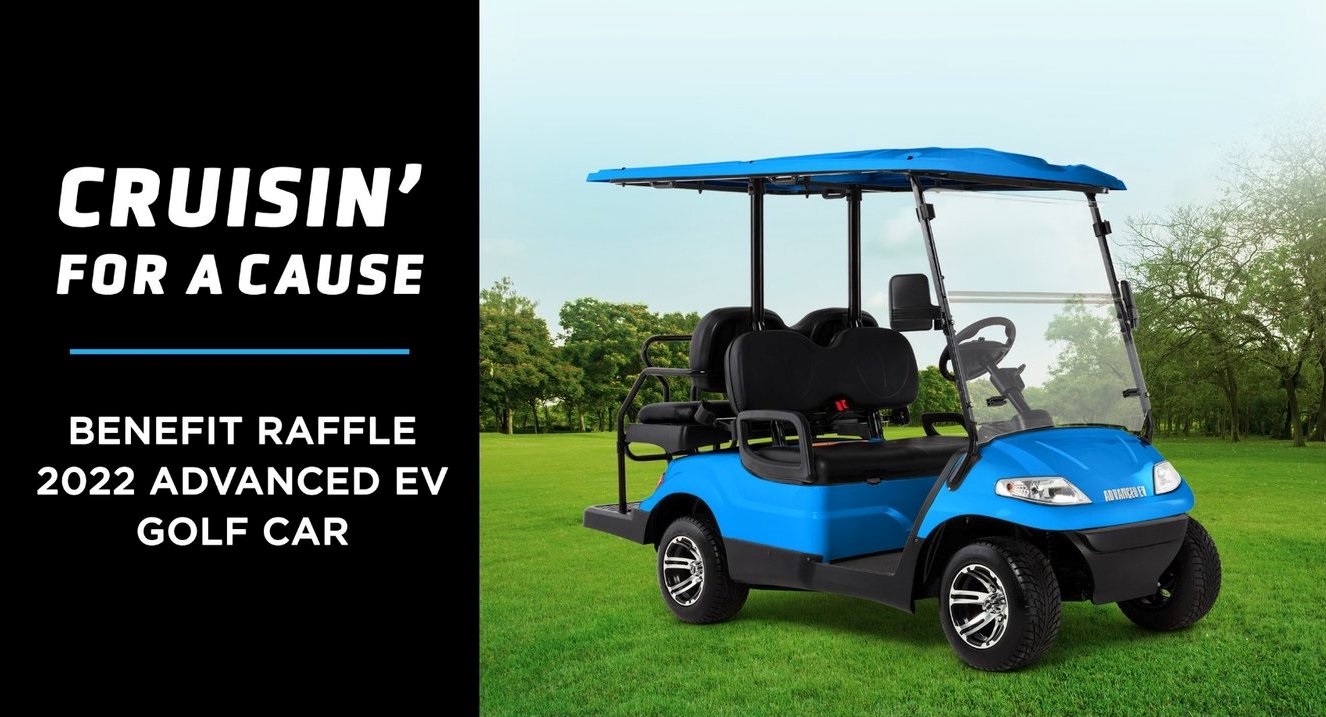 Win a Free Golf Cart & Support Local Wilmington Charity

For months, you've heard us talking about our exceptional new Advanced EV golf carts…
…Well, now is your chance to get one of your very own—for FREE!
On June 16, 2022, SunFun Golf Carts will give away a brand new Advanced EV golf cart to the lucky winner of our local charity raffle .
We are donating all the raffle proceeds to Ruthie Trammel's Champions for Compassion , an organization dedicated to removing the stigma of addiction and mental health disorders and sowing seeds of hope in communities across New Hanover County.


More About The Cause

Ruthie Trammel , MSW/LCSW, is widely recognized throughout the Wilmington area for her big heart for those struggling with addiction and mental health challenges.
In her life, Ruthie played a crucial role in the development of the Intensive Outpatient Program at Wilmington's Coastal Horizons Center (CHC) —an organization that provides substance abuse, crisis intervention, justice, and wellness services to people in need. Dedicating 23 years to CHC, she received the acclaimed Flo Stein Award for her excellence in health policy… TWICE!.
In 2012, they diagnosed Ruthie with ovarian cancer. After a courageous 17-month battle, Ruthie passed away, leaving her surviving family members with an undeniable motivation to honor her legacy of "removing obstacles to recovery and restoring hope."
That legacy now lives on through the initiatives of Ruthie Trammel's Champions for Compassion.
The charity's largest program—"Ride to Recovery"—aims to do two things:
Remove the stigma associated with addiction and mental health disorders, and
Help people stay on the road to recovery through transportation help.
Many people who need treatment cannot make their appointments… simply because they don't have the means of transportation. The "Ride to Recovery" effort allows the Champions for Compassion team to work toward removing this barrier by providing bicycles and bus passes as needed.
Champions for Compassion also conducts occasional special programs. Through the ongoing "Dream Big" program, the team is working to ensure each child in New Hanover County has a bed of their own, allowing them to get the good sleep they need for academic success and physical, mental, and emotional health and wellness.
The organization also spearheaded a special project called "Operation Ring and Run" during the early weeks of the COVID-19 pandemic. Through the operation, Champions for Compassion could donate 11,874 meals to students of New Hanover County Schools.

Golf Cart Giveaway Details

When you purchase raffle tickets, not only will you be helping Champions for Compassion accomplish its community assistance goals, but you will also register for a chance to win a brand new Advanced EV golf cart . The golf cart's features include:
High-quality Toyota AC motors and controllers
Superior speed, power, safety, and overall performance
US RedBox 8V batteries
A powerful AC drive to handle the toughest terrains
25-mile-per-hour speed max
A digital dash
Heavy-duty braced tops
A built-in battery charger
And more!
Learn more about our Advanced EV carts.

Buy Raffle Ticket Entries Before It's Too Late!

With a deadline of June 15, you have less than 1 month left to purchase raffle tickets . Our goal is to donate $20,000 to Champions for Compassion, and we are only 43% of the way there!