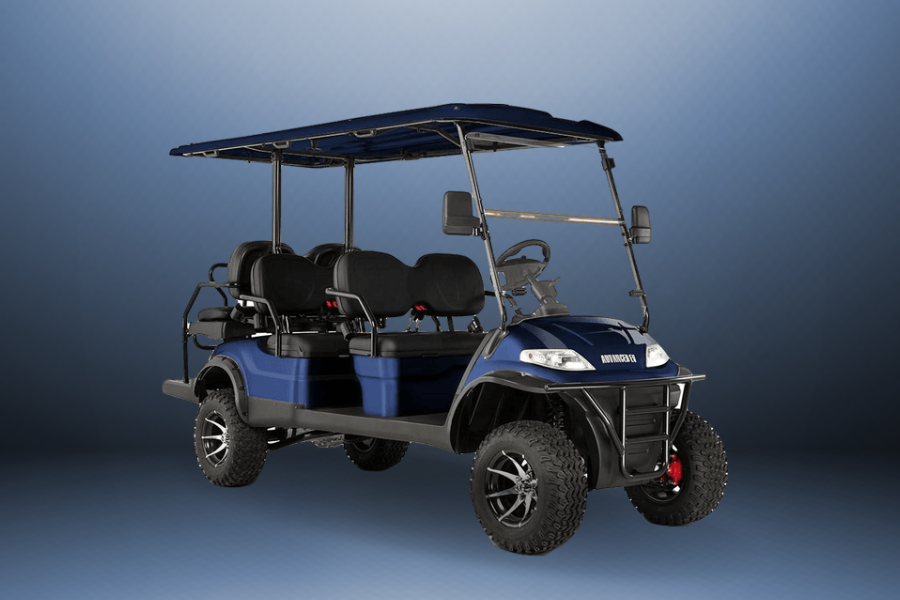 Why Advanced EV is Becoming the Most Popular Golf Cart Brand
Whether you're looking for a gift for that golf-crazed person in your life or treating yourself to a new toy, we're here to tell you why Advanced EV golf carts are quickly becoming the most popular golf cart brand.
One of the best things about Advanced EV products is their versatility. These golf carts have several excellent features for when you're playing, but they also have tons of practical uses when you're outside the golf course.
Purchasing an Advanced EV product guarantees that you're getting a quality item from a manufacturer with over 35 years of market experience. Advanced EV offers innovative luxury golf carts that maximize power, speed, and safety.
In this article, you'll learn all about the key features of an Advanced EV golf cart and why you need one in your arsenal!
Key Features of Advanced EV Golf Carts
In this article, you'll learn all about the key features of an Advanced EV golf cart and why you need one in your arsenal!
Endless Customization
You can customize these golf carts to your likingwith their various seat options, battery packs, rims, tires, and accessories. You don't need to sacrifice one feature in exchange for another.
Seat Options
Customize your golf cart's seat types and colors by choosing from the brand's different models, which include:
The Advent Model Line Seat - Choose from Gray Flat (no surcharge factory seat), OR Black Chevron (surcharge included), and Saddle Chevron (surcharge included).
The EV1 Model Line Seat - Choose from Black, Saddle Brown, or Gray Flat seats (All factory seats are free!)
Battery Options
Compared to conventional lead-acid batteries, lithium golf cart batteries offer a number of benefits, including longer lifespans, quicker charging times, greater carrying capacities, a lot less maintenance and upkeep, and environmental friendliness.
With Advanced EV golf carts, you can choose between 100X, 150X, and 200X lithium batteries, depending on how long you plan to be out on the course or road.
Rim and Tire Options
We have a wide range of styles and colors for Advanced EV rims and tires. You can even add accent colors to make your golf cart stand out from the rest.
Higher Speeds
Advanced EV develops faster and better carts that deliver speed while avoiding bumpy rides. AEV drivers and passengers can travel up to 25 miles per hour in their golf cars, giving them more freedom than traditional cart drivers.
This means you can use these carts for other things – such as getting around your workplace or visiting friends or family in the neighborhood. If you live or work on a farm, orchard, or ranch, this cart is perfect for moving around with ease.
You can even use these golf carts around campus. If you're in event management, these carts can transport event guests around the venue or hotel property quickly.
Impeccable Safety
This means seatbelts in every row, brake lights, taillights, turn signals, and safety bars for rear-facing back seats. So, you get standard safety features and more without having to upgrade your cart down the road.
AC Drive
Every Advanced EV golf cart is superbly crafted and works on an alternating current (AC) drive system. You can accelerate more quickly when you combine the 4-kilowatt motor with the 350A Toyota Controller.
The torque and capacity of the golf cart coupled with its AC system allow it to climb over rough terrain more smoothly and powerfully with minimal jerks and bumps.
Street Legal
These golf carts meet the requirements for street-legal, low-speed vehicles (LSVs) so you can enjoy them in many different ways, not just when you're out on the golf course.
Plus, they're environmentally friendly since they're either totally electric-powered or emit very low emissions!
Large Range
A top-notch battery pack is standard on all Advanced EV golf carts, giving users lots of use between charges.
Plus, regenerative braking abilities are built into AEV golf carts, which conserves energy and lets you get the most out of each charge. The Advanced EV's Pro Charging Systems provide full and quick charges.
Unique Styles
With Advanced EV golf carts, you've got style options galore.
Two style options:
1. EV1 Series Golf Carts: Opt for models with larger, easy-to-view displays like the EV1 Series Golf Carts.
The EV1 series...
Is cheaper and simpler to operate, making it the perfect gift for beginner users.
And gives you more color options, including stunning shades like lime green and sky blue.
These fully upgraded luxury models have:
higher ground clearance
aluminum floorboards
double powder-coated metals to safeguard your cart from the elements
more tensile plastic components that aren't prone to rust
and smaller displays and loads of room for accessories!
Accessories
Customize your cart with endless touches and tweaks to make it extra personalized. Advanced EV offers add-ons like:
Bluetooth speakers
Sound bars
360 cup holders
Underglow for ambient lighting
Eagle Clay Basket for extra storage
Beach chair holder
Throw-over winter storage cover
Steering wheel upgrades
Light bar
Floor mat
Side Nerf Steps for more accessibility
Custom Key Switch
Golf Cart enclosures for protection
SunFun Golf Carts | Advanced EV
When it comes to the best golf carts in the market, there's nothing quite like the Advanced EV products from Sun Fun Golf Carts. Their golf carts are the best in terms of speed, function, and customization so get yours today!
RELATED: