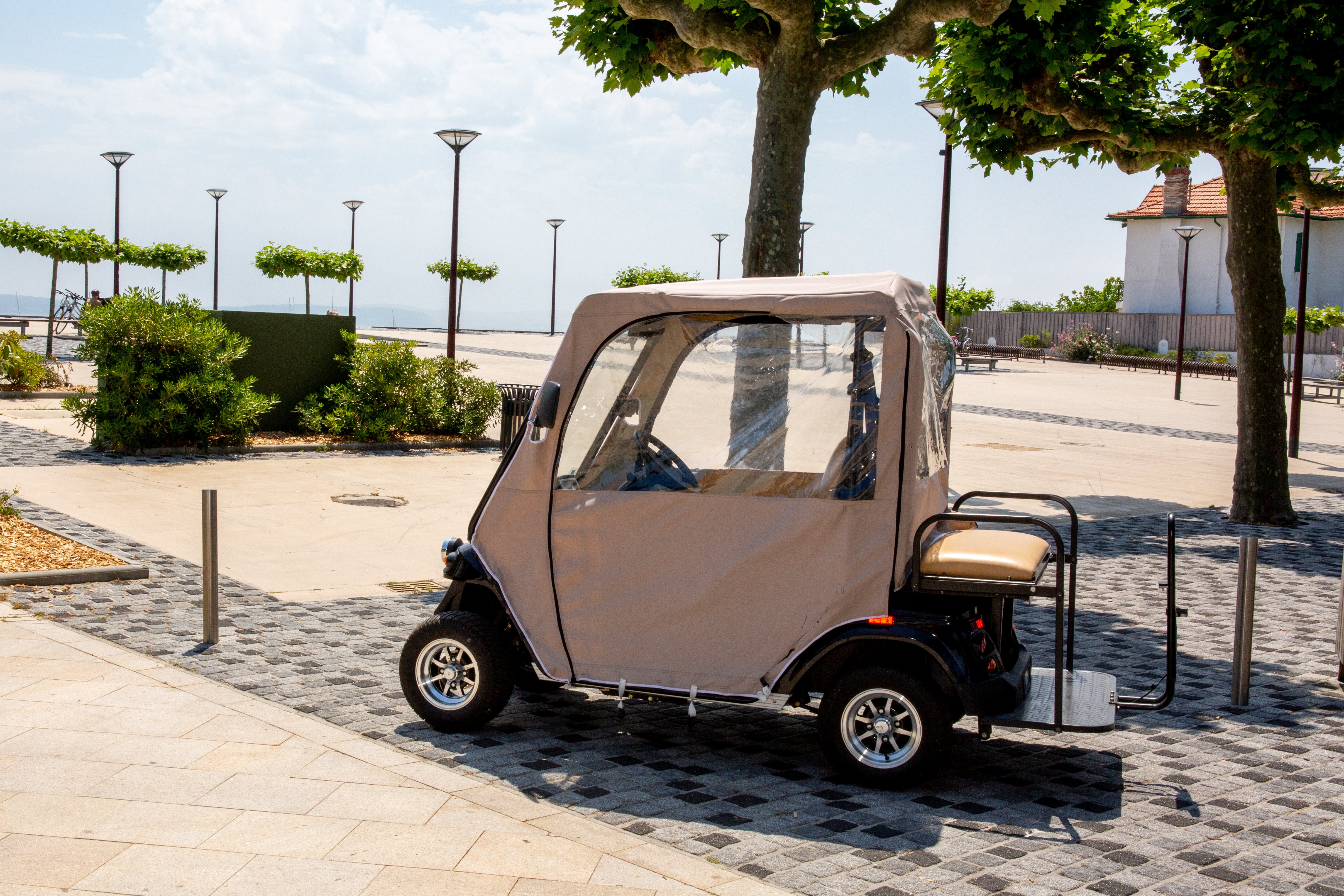 Top 5 Benefits of Golf Cart Enclosures
Whether you use a golf cart for your regular tee time or for occasionally covering short distances, it still needs protection from environmental factors. This is particularly true in southeast North Carolina, with its coastal climate and hurricane vulnerability.
Golf cart enclosures are the perfect solution to protect your vehicle from glaring sunlight, harsh winds, heavy rain, and humid weather and extend its life in the process. Enclosures help keep you comfortable during cold temperatures, too. And the best part is that you wouldn't even notice that the enclosure is there after installation.
This blog discusses the various benefits of golf cart drivable enclosures and how to choose the right one for your golf cart.

How You Benefit From Golf Cart Enclosures
Limit Exposure to Weather Elements
North Carolina's weather is generally humid. Nevertheless, it can be unpredictable. Golf cart enclosures protect the vehicle and the rider against weather elements, such as dirt, dust, debris, sunlight, rain, and wind.
Constant exposure to harsh weather elements can also lead to rust and corrosion. It could also result in mold and mildew growth. With the help of a high-quality enclosure, you can minimize unnecessary moisture from causing the issues mentioned above.
Protection From UV Rays
Direct exposure to sunlight means direct exposure to harmful UV rays — this can't be helped if you often bring out your golf cart for a beach cruise or use the vehicle to go around town for errands and short drives.
Enclosures cannot fully protect against UV rays but can minimize their harmful effects.
Enclosures — especially those with UV treatment — can help block sunlight and reduce damage. This means lower susceptibility to fading paint and deteriorating materials. As a result, it extends the longevity of your golf cart.
Prevent Pests From Damaging the Golf Cart
While regular cars are fully enclosed with doors and windows that prevent bugs from getting in, golf carts are generally exposed to the natural environment. This is why golf carts need an enclosure to prevent ants, bees, mosquitos, spiders, and other pests from entering the vehicle and causing damage or making it their home. High-quality enclosures make it more difficult for pests to get into golf carts and build their nest.
The pest problem becomes even more challenging when the golf cart is parked away during the off-season. In this case, the use of a golf cart cover is recommended along with the enclosure.
Keep Golf Cart Interior Dry and Clean
High-quality golf cart enclosures reduce damage due to prolonged weather exposure and possible pests — but these aren't the only reasons to invest in them.
The product keeps the cart interior clean and dry despite glaring sunlight, heavy rain, heavy winds, and other weather changes. The added layer of protection makes it easier to wipe away any dirt, dust, or pollen that accumulates when you're out for a drive.
The idea is of particular interest if your vehicle has leather seats. Not only does it keep the seats relatively clean and comfortable to sit on when you need to make that short travel from one point to another- it ultimately helps keep the golf cart interior in good condition for a longer time.
Reduce Maintenance and Repair Costs
It doesn't matter whether you're a busybody with a full schedule of events, hobbies, and responsibilities or have all the time in the world to inspect your golf cart after every run. Either way, everyone wants to streamline routine maintenance and reduce repair costs. Golf cart enclosures can easily make this possible for you.
The enclosure protects your golf cart against external damage and interior deterioration. As a result, it helps you save more on maintenance and repair costs.

How to Choose a Golf Cart Enclosure
Your choice of golf cart enclosure ultimately depends on three factors — size, style, and material. First, you have to filter your options based on what actually fits your vehicle. Then, you choose your preferred enclosure color and design based on available options.
Of course, it's also important to ensure the material is durable and long-lasting. Given North Carolina's coastal climate and hurricane season, you want to opt for waterproof and fade-resistant enclosures that can withstand strong winds.

SunFun Rentals Has ALL of Your Golf Cart Servicing Needs
Golf cart enclosures are a protective cover with clear vinyl windows. So, you can freely drive around without worrying about the damaging effects of environmental factors.
Our enclosures are made with fade-resistant Sunbrella fabrics and heavy-duty plastic windows. They are available in over 20 colors and in 4pr or 6pr. They feature zipper doors and snaps for secure enclosure. And finally, they are custom-made in the U.S. and installed locally at SunFun . Contact us today at 910-713-1229 for inquiries!
SUNFUN GOLF CARTS | GOLF CARTS & ACCESSORIES
Want to spruce up your golf cart? Bring your cart by the SunFun Golf Carts shop for an upgrade!
Thinking about purchasing a golf cart? Come by the shop to see the different golf carts we currently offer! You can even customize your golf cart down to the batteries and accessories!
RELATED ARTICLES