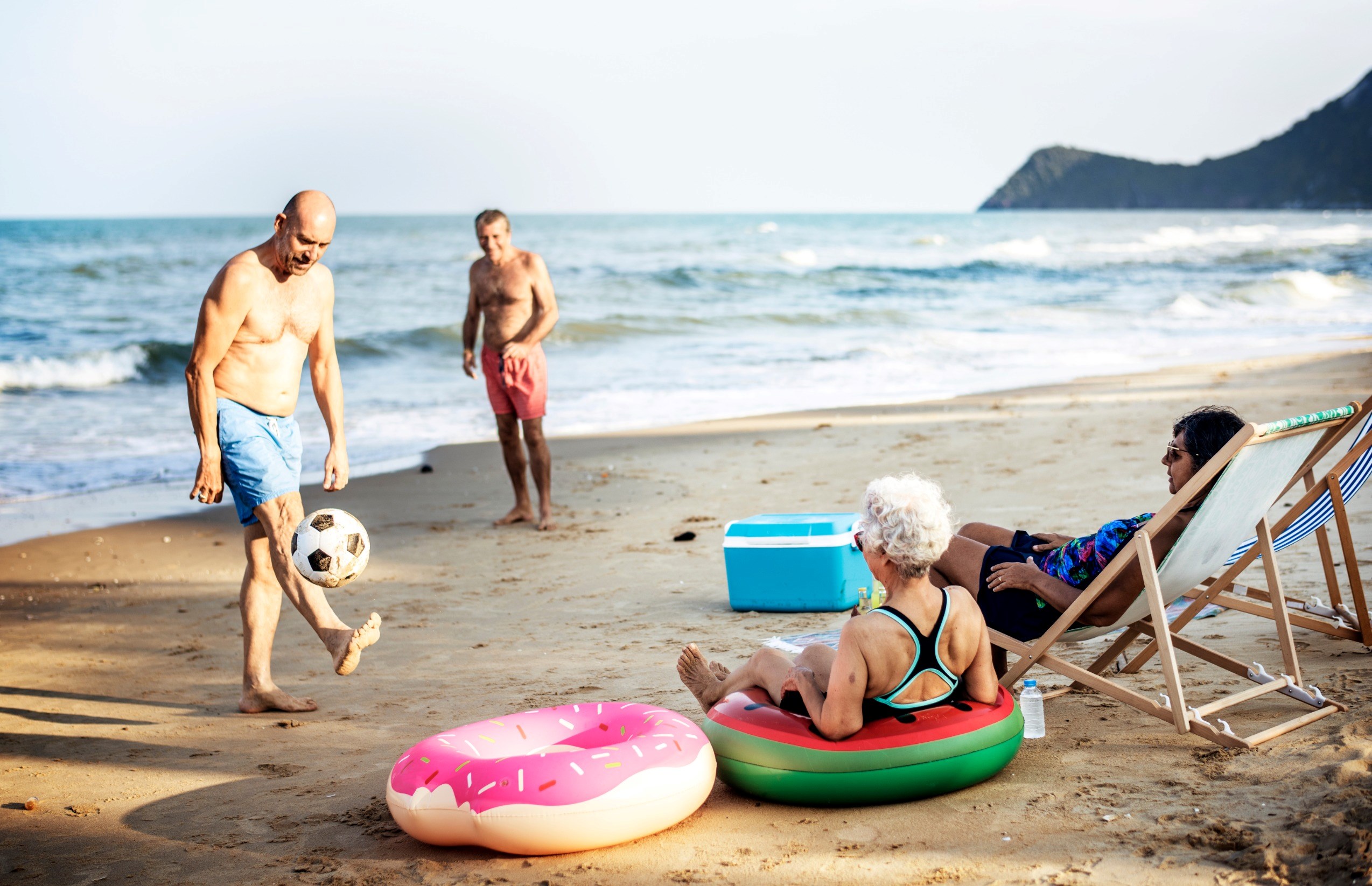 Which is the Best Vacation Golf Cart Rental Model? – Carolina Beach, NC
When you vacation at Carolina Beach, you'll need an easy way to get around…to the beach, to nearby restaurants, to the ice cream shop several blocks away. The solution? Rent a golf cart – or low speed vehicle (LSV) – from SunFun Golf Carts.
SunFun offers a number of golf cart rental options. In this blog, we describe the types of golf cart models you can choose from when you visit Carolina Beach, NC.

Types of Golf Cart Models
When deciding on a golf cart to rent, you will have a few choices to make:
Gas or electric?

4-passenger or 6-passenger?

Lifted or non-lifted?
Gas Golf Carts
PROS: Gas golf carts tend to be more powerful than electric carts, letting them pull heavier loads. And while you won't have to worry about your cart's battery life, you WILL need to monitor fuel levels and refill your gas cart if necessary.
CONS: The main downsides of gas golf carts are the fuel refills and environmental concerns. The emissions from gas golf carts compete with our beautiful beaches. Additionally, gas golf carts offer a slightly rougher ride. They give off a mild vibration, make more noise, release more exhaust odors, and radiate heat from beneath the seats. While both gas and electric golf carts are reliable, gas golf carts have more parts – and thus, are more likely to go bad or develop an unforeseen issue.
OUR GAS GOLF CARTS ARE ONLY ALLOWED IN CAROLINA BEACH (NOT KURE BEACH OR FORT FISHER).
Electric Golf Carts
PROS: The most obvious benefit of electric golf carts is the lack of emissions. Not only are electric carts better for the environment, but recharging them typically costs less than paying for gas – especially if you are just renting. Running on battery instead of gas also means that you'll get a smoother, more peaceful ride without all the noise, smells, and vibrations of gas carts. And while gas golf carts are typically faster than most electric carts, that's not the case SunFun's electric Advanced EV golf carts. Getting up to 25 mph, our readily available Advanced EV golf carts are street legal at Carolina Beach AND Kure Beach.
CONS: The main drawback of electric golf carts is the battery life. It can be challenging to determine when electric carts will run out of battery. And depending on the cart, you may only be able to ride 30 to 40 miles on a single charge. While that may not seem like very much, most people only travel 5 to 10 miles per day.
4-Passenger vs. 6-Passenger Golf Carts
Whether you're renting a golf cart for two or need to accommodate the whole family, we've got you covered. SunFun offers 4-passenger AND 6-passenger golf carts – gas and electric, lifted and non-lifted.
Lifted vs. Non-Lifted Golf Carts
If you plan to take your golf cart rental somewhere with slightly more rugged terrain, you may want to consider a lifted golf cart. Given a little boost, lifted carts have larger tires that can handle rougher terrains and heavier loads. They are easier to get in and out of. And, with larger tires comes the ability to reach higher speeds!
SunFun Golf Carts | Pleasure Island, NC
Gas or electric, lifted or non-lifted, SunFun Golf Carts can accommodate your golf cart rental needs. In addition to Carolina Beach and Kure Beach (Pleasure Island), we serve Oak Island, Southport, Wrightsville Beach, Ocean Isle, and Holden Beach.
Need a golf cart rental for your vacation? Book your golf cart rental now.
READ MORE:
​
---
Frequently Asked Questions

1. What Size Golf Cart is Best for a Family of 4?
The best size golf cart for a family of 4 is a 4-seater golf cart. This size ensures comfortable seating for all family members and typically provides additional space for storage, which can be especially useful for carrying personal items or supplies during vacation activities.

2. How Much Does it Cost to Rent a Golf Cart for Vacation?
The cost to rent a golf cart for vacation varies widely depending on location, rental duration, and the type of cart. Prices can range from about $25 to over $100 per day. It's advisable to contact rental companies directly for precise pricing based on your specific needs and vacation duration.

3. What is the Difference Between a 2-Seater and 4-Seater Golf Cart?
The primary difference between a 2-seater and a 4-seater golf cart is seating capacity and space. A 4-seater golf cart offers additional seating for two more passengers, making it more suitable for groups or families, and often provides extra storage space compared to a 2-seater.

4. What Features Should I Look for in a Vacation Golf Cart?
Key features to look for in a vacation golf cart include sufficient seating capacity, safety features like seat belts and lights, a canopy for weather protection, and storage space. Additional considerations might include battery life (for electric carts), terrain capability, and any special amenities like GPS or audio systems.

5. What are the Pros and Cons of Renting a Golf Cart for Vacation?
The pros of renting a golf cart for vacation include convenience, ease of navigation in resort areas, environmental friendliness, and fun for the family. The cons can include the cost, potential restrictions on where the cart can be driven, and the need for charging or refueling.

6. What Should I Ask a Golf Cart Rental Company Before I Book?
Before booking a golf cart rental, ask about rental policies, costs, deposit requirements, cancellation policies, cart features, and any usage restrictions or guidelines. It's also important to inquire about safety features and whether the company provides roadside assistance or support in case of issues.

7. What is the Maximum Weight Capacity for a Golf Cart?
The maximum weight capacity for a typical golf cart is around 800 to 1,100 pounds. However, this can vary based on the model and make of the golf cart. It's important to consider both the weight of the passengers and any cargo or equipment being transported.

8. What Do I Need to Bring with Me When I Rent a Golf Cart?
When renting a golf cart, bring a valid driver's license, payment method, and any necessary personal items. Depending on the rental company's policy, you may also need to provide proof of insurance. It's also advisable to bring any personal items you'll need while using the cart, such as sunscreen, water, or a map.