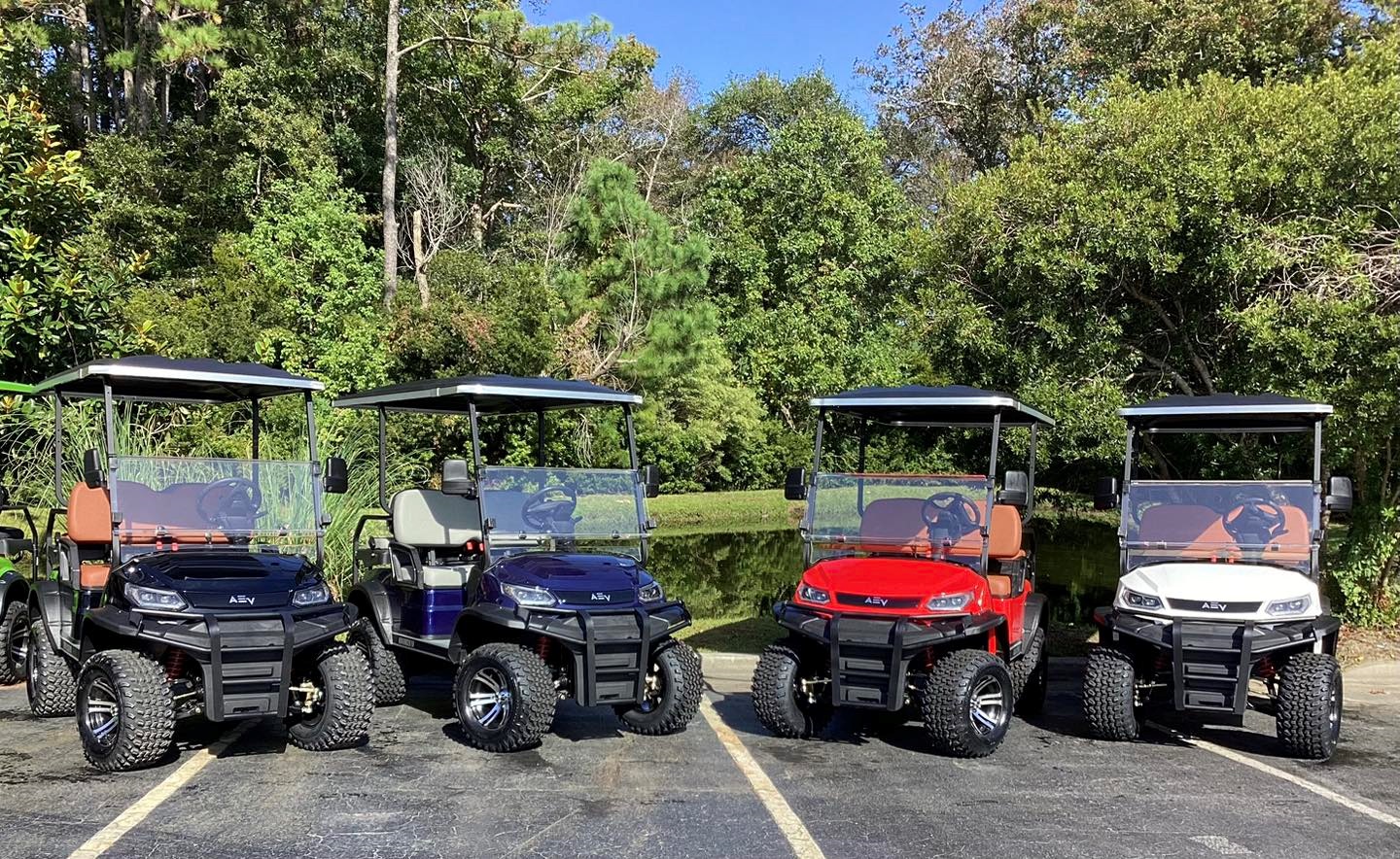 The Advent Click Golf Cart – A More Affordable Way to Ride
Lately, it's been difficult to find any good deals out there – especially on vehicles. That's why we're THRILLED to announce our new 2024 Advent Click golf cart.
Without compromising the excellent performance of the Advanced EV brand, we're able to offer the Advent Click as a simple, cost-effective golf option for buyers across New Hanover County, Brunswick County, and Pender County.
So, let's dive into the Advent Click's features!
ADVANCED EV ADVENT CLICK FEATURES
The Advent Click shares the same safety features of Advanced EV's Advent golf cart, including…
LED headlights
Tail lights
Brake lights
Turn signals
A horn
A back-up buzzer
Seat belts
A 17-digit Vehicle Identification Number (VIN)
Like all of our other golf carts, the Advent Click meets all the necessary North Carolina street-legal requirements.
The primary difference between the Advent and the new Advent Click is the brake system. While the Advent has a four-wheel hydraulic disc braking system, the Advent Click boasts a rear wheel drum brake system.
What does that mean for drivers?
It means dependable stopping power, enhanced safety and control, simple maintenance, and consistency braking in a wide range of conditions.
Some of the other traits unique to the Advent Click include…
2-year manufacturer warranty
Flooded lead acid battery
1-year battery warranty
Fold-down, acrylic windshield
Three seat color options (black, brown, and gray)
Four body color options (black, white, Ferrari red, metallic blue)
GET YOUR ADVENT CLICK TODAY!
We are offering three 2024 Advent Click models, as broken down below:
4-Passenger – $7,995
4-Passenger (Lifted) – $8,495
6-Passenger – $8,995
Interested in the Advent Click for yourself or as a gift to someone you love this holiday season? Come visit us at our Carolina Beach location!
SUNFUN GOLF CARTS | ADVANCED EV MANUFACTURER & DEALERSHIP
The ONLY Advanced EV manufacturer in North Carolina, SunFun Golf Carts has earned a reputation as the most reliable golf cart dealer and manufacturer across New Hanover County, Brunswick County, and Pender County.
Browse our golf cart inventory online or stop by our Carolina Beach location to snag one of our Advent Click golf carts before they're all gone!
READ MORE: