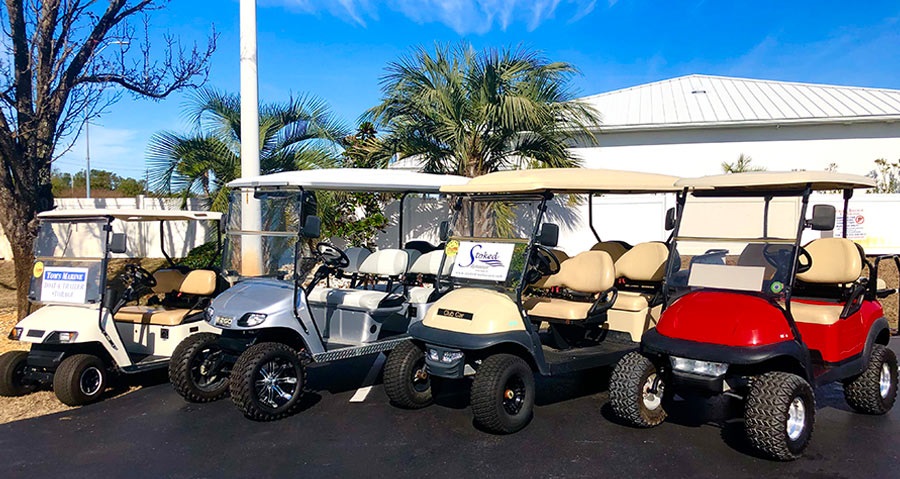 Golf Cart Rentals
To book your reservation online, please hit the "BOOK NOW" button in the top right hand corner.
Delivery Information
Delivery extends to Oak Island, Southport, Topsail Beach, Wrightsville Beach, Ocean Isle, Holden Beach, and Surf City. $60 delivery fee waived on weekly rentals (Due to the restrictions imposed by Figure 8 Island in Wilmington, we are no longer able to service that area for rentals. We apologize for the inconvenience).
IMPORTANT DELIVERY INFO: The cart will be DROPPED-OFF on the FIRST DAY and PICKED-UP on the LAST DAY of your reservation. If you would like to use the cart THROUGH the end of the last day, you will have to book it through the following day. (

Example: if you are in town Sunday-Friday, leaving Saturday you will have to book the cart from SUNDAY-SATURDAY).

Customers must request delivery with vacation address in 'notes' section on the reservation page. Deliveries must be scheduled at least 48 hours in advance.
PLEASE NOTE: ALL TRUCKS RUN ON A ROUTE. WE CANNOT GUARANTEE A DELIVERY OR PICK-UP TIME-ONLY A DELIVERY/PICK-UP DAY.
Pleasure Island (Carolina Beach, Kure Beach, and Fort Fisher) MUST pick up at one of two locations.

1204 N. Lake Park Blvd. Unit F Carolina Beach, NC 28428
112 Fort Fisher Blvd. South Kure Beach, NC 28449
Electric Cart/Gas Cart Requirements
ELECTRIC GOLF CART REQUIREMENTS: 2-DAY MINIMUM (48 HOURS) AND AN OUTSIDE OUTLET/GARAGE OUTLET (WE DO NOT PERMIT EXTENSION CORDS)
GAS CART REQUIREMENTS: ONLY ALLOWED IN CAROLINA BEACH (NOT KURE BEACH OR FORT FISHER) AND 2 DAY MINIMUM RESERVATION
No refunds for unused dates of reservation without a 48-hour notice.