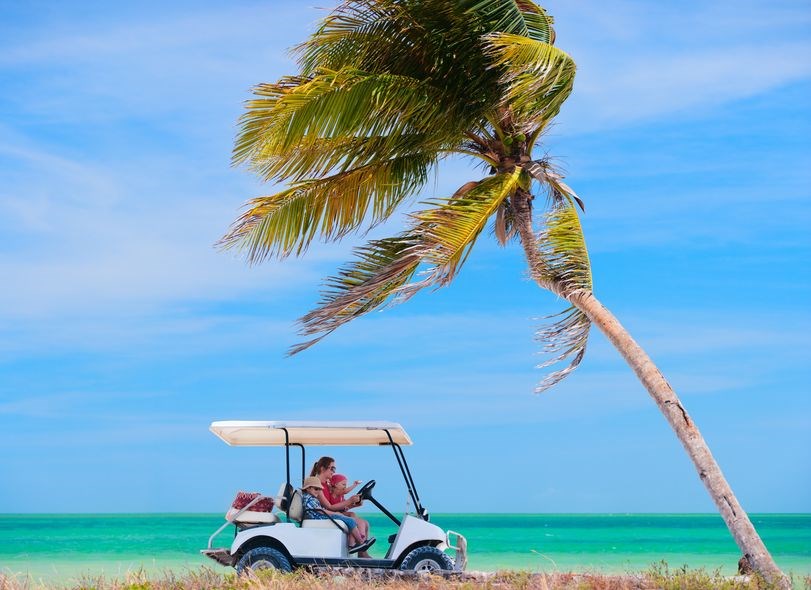 Summer Maintenance for Golf Carts

The infamous North Carolina summer has arrived… and with it, the sweltering heat, high temps, and some pretty intense humidity!
We all know that it's important to take care of our own bodies during hot summer months – applying sunscreen, wearing sunglasses, and staying hydrated. But did you know that your golf cart needs special attention during the summer as well?

HOW CAN EXTREME HEAT IMPACT MY GOLF CART?
Motor Failure – When the sun beats down on your golf cart, not only does the external shell become hot, but so does your engine. If left unmonitored, your motor can overheat and burn out.
Fluid Evaporation – High heat can cause your battery fluid to evaporate rapidly, reducing your battery's ability to hold a charge and decreasing its charging power.
Battery Corrosion – Not is battery corrosion a strong possibility in super humid climates like coastal North Carolina, but corrosion-causing acid leaks are a common side effect of reduced battery capacity.
Cosmetic Wear & Fading – Extreme temperatures and humid weather can quickly cause your body paint and seats to wear and fade (if you don't apply the proper golf cart protection).
Whether you only occasionally use your cart on your local golf course or it's your primary means of transportation around Kure and Carolina Beach, there are some steps you can take to keep your cart in tip-top shape throughout the summer months.
Check out our top 8 tips for maintaining your electric golf cart during toasty North Carolina summers:

1. SCHEDULE REGULAR MAINTENANCE.
Many issues that occur with golf carts can be prevented – or at least caught early on – if you schedule yearly maintenance on your cart. The beginning of the summer is a great time to schedule your maintenance and check on things like your steering, suspension, wiring, brakes, and oil. Fortunately, SunFun Golf Carts has a dedicated service department to help you whenever you need it!

2. CHECK YOUR TIRES.
When the temperature fluctuates, the air pressure in your tires can rise and fall unpredictably, and the tread of your tires can wear down prematurely. Make sure your tires are filled up according to the manufacturer-recommended pressure. If you're unsure about the appropriate air pressure level, contact your local golf cart dealer…us!
It's best practice to check your tires every couple of weeks (or at least once every month) since low air pressure and high temperatures are a recipe for a dangerous tire blow out. Plus, keeping tabs on your golf cart tires will prevent excessive wear and help them last much longer!

3. KEEP YOUR CART COVERED.
Aside from poor weather, exposing your golf cart to summer's brutal elements – especially the sun – can cause significant damage to your body paint and seating. You'll want to keep your cart in the shade or covered ‌to protect the paint job, as direct sunlight can cause your paint to fade or shrivel. If you don't have a garage or another form of shade, we suggest investing in a high-quality golf cart cover.

4. OFFER THE OCCASIONAL WASH & WAX.
Another way to protect your golf cart's paint job is to keep it clean! Everyone once in a while, give your cart a good wash to remove any impurities that can eat away at the pain. Then, use a manufacturer-recommended wax to give your cart a strong, protective layer.

5. CLEAN YOUR BATTERIES.
To maintain a secure battery connection, keeping your battery components clean and corrosion-free is critical. Make sure you check for dirt, grass, and other debris that could compromise the connection. You should also keep an eye out for corrosion. If you find any, follow these steps…
First, disconnect your batteries.
Next, spray off the battery with a water hose.
Then, apply a 1-to-1 mixture of water and baking soda to the battery exterior (the mixture should be somewhere in between a paste and a liquid).
Let the mixture sit on the battery for about 5 minutes.
Use a toothbrush or other small brush to scrub the battery terminals.
After you've given your battery a thorough scrub, rise with water.
Finally, inspect your battery for cracks in the casing and tighten any loose connections.
6. KEEP AN EYE ON BATTERY WATER LEVELS.
Hot summer temps mean faster battery fluid evaporation rates. You should check the water levels in your batteries once per month, especially during the summer. If the levels are lower than the lead plates inside the battery, you'll need to fill them up. Charge your batteries fully before adding any water, as the electrolyte levels increase while your battery charges.
Once charged, add distilled water (NOT tap water) until the level of the water is ¼ to ½ inch above the lead plates. Alternative water sources have minerals that could cause serious harm to your golf cart battery.

7. TAKE CARE OF YOUR BRAKES.
As a part of your regular maintenance, check on your brakes yearly – and more if you use your golf cart a lot. Make sure the pads, drums, cables, and brake pedals are clean, in good shape, and adjusted properly. If you're worried about the health of your brakes or are experiencing any strange sounds or movements coming from them, book your inspection service appointment with us so we can take a look!

8. STORE YOUR CART SAFELY.
After you're done using your golf cart, follow the steps below:
Charge your batteries until full.
Check and refill your battery's water levels (as needed).
Disconnect your battery charger from the AC outlet BEFORE you unplug it from the cart.
Disconnect any of the main positive or negative connections.
Keep your golf cart covered or well-shaded.
SUNFUN GOLF CARTS | GOLF CART SERVICE IN CAROLINA & KURE BEACH
Sun Fun is happy to be one of Carolina Beach's top golf cart service providers , but did you know we also do golf cart rentals and sales ? Whatever your golf cart needs, call us at 910-713-1229 or visit our Carolina Beach or Kure Beach locations for more info!

RELATED ARTICLES