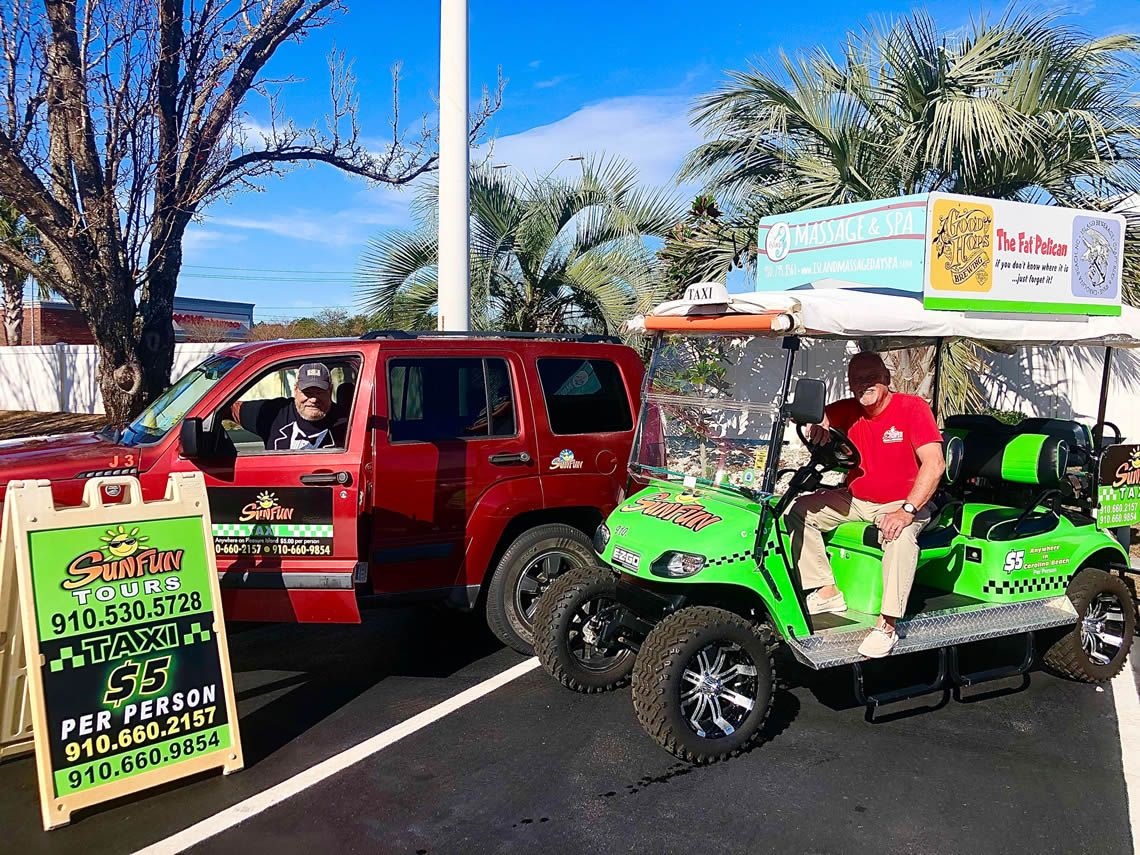 Advantages of Golf Cart Taxis
If you're visiting Carolina Beach, NC from out of town, there's a good chance you're here on vacation and want to relax and have a good time. Or maybe you're a local who just doesn't enjoy the stress of all the summer traffic. Either way, SunFun has a solution for you -
golf cart taxis
!
There's pretty much no Pleasure Island dilemma that golf cart taxis can't solve. Need a ride to the store? Don't want to struggle with finding or paying for parking at the beach? Too tired to walk home from dinner? We've got you covered. Check out some of the other advantages of golf cart taxis and give us a call at 910-660-2157 if you're ready to take a ride!
1. Golf cart taxis are affordable.
Golf carts are cost-efficient in nature, which allows us to offer rides to our customers at very affordable prices! Our golf cart taxi service is $5 per person for a ride anywhere on Pleasure Island. Plus, kids under 7 ride for free!
2. They're a more "green" solution than cars.
Gas-powered golf carts get incredible mileage, making them a lot more environmentally friendly than cars, and electric golf carts don't use any gas at all! If you choose a golf cart taxi, you can rest easy knowing you're doing a little something extra to help the environment.
3. You can take in all the sights.
Since you aren't the one behind the wheel, you'll have the advantage of enjoying all of the beautiful views that a ride around Carolina Beach and Kure Beach, NC has to offer, from our beautiful pine forests to the white, sandy beaches.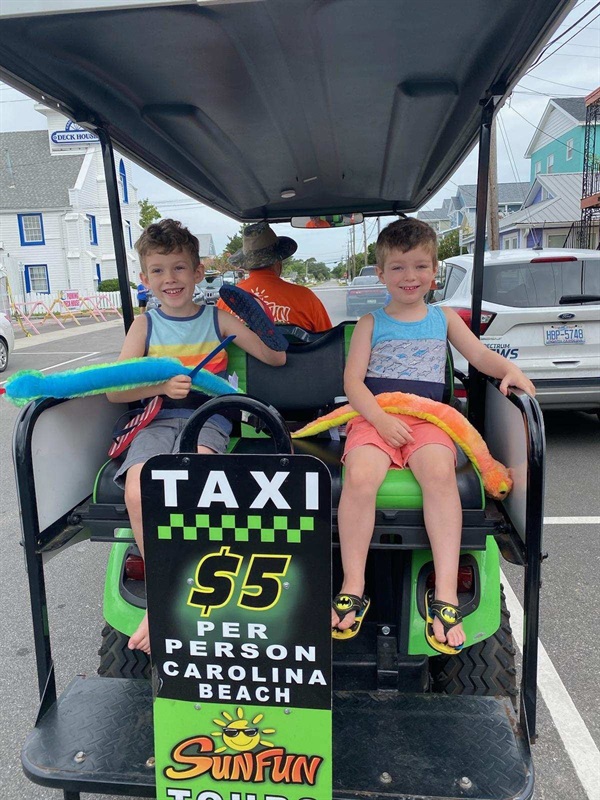 4. They're great for groups.
From big family vacations to destination weddings, golf cart taxis are a cost-efficient way to haul around a large group of people in no time. You can easily get your whole group to your destination quickly and without having to worry about parking once you get there!
5. You can book them in advance.
Unlike traditional taxis or ridesharing apps, you can go ahead and schedule your golf cart taxi ride with SunFun in advance. Planning your vacation or beach visit has never been easier or more convenient.
6. You can also take a golf cart taxi tour.
Want to take a ride but not sure where to go? No problem. With SunFun you can choose from our Fun Facts Tour, Craft Beer & Wine Tours, and Fort Fisher Historical Tour - or do all three! These taxi tours are a great way to see the island without any of the stress of dealing with traffic.
7. They're FUN!
Who doesn't love a nice beachside drive as you smell the salt in the air and feel the wind blowing through your hair? Golf cart taxis and tours are truly one of the best ways to enjoy your time here on Pleasure Island!
Remember, all you have to do is call 910-660-2157 to
schedule your golf cart taxi or tour
. Or, if you've had so much fun on one of our golf carts that you just have to have one of your own, stop by our store and take a look at all the
golf carts we have for sale in our inventory
!