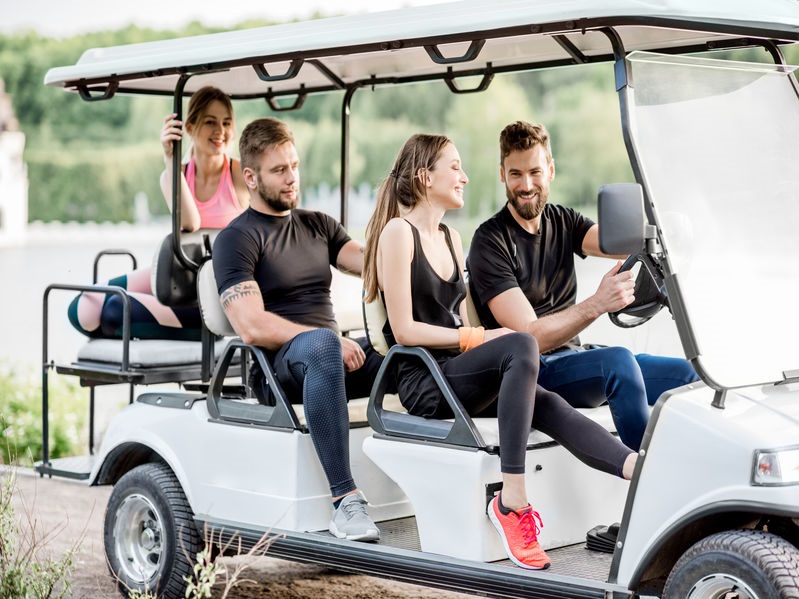 Should You Buy or Rent a Golf Cart?
On top of being the primary method of transportation for many golfers, golf carts are often the transportation method of choice in many other situations. For example, if you are a frequent visitor at campgrounds, you might use a golf cart to get around while camping. Additionally, there are countless golf cart communities and golf cart-friendly cities all around the United States.
If you're one of the folks who find themselves using a golf cart frequently, you might be wondering whether it's more beneficial to buy or rent a golf cart. Well, the pros at Sun Fun Golf Carts are here to help by filling you in on the pros and cons of both golf cart rentals and golf cart ownership.
Pros of Buying a Golf Cart
If you're one of those people who use a golf cart daily or several times a week, purchasing your own golf cart will save you money. Having your own golf cart available for daily use is much cheaper than scheduling frequent rentals. Another advantage of buying a cart is that it'll always be available. You'll never have to schedule a delivery or return it at the end of the day.
If you have a large property, a golf cart is the ideal solution for getting around and can be a valuable tool when working around your house on things like landscaping, yard care, or taking out the trash.
Plus, when you own your own cart, you can customize it and decorate it as much as you like, which opens up a ton of options when it comes to things like custom wheels, paint jobs, sound systems, etc.
Cons of Buying a Golf Cart
Though frequent users will find that their investment pays off in the long run, that doesn't change the fact that purchasing a golf cart is a major purchase - one that not everyone may be able to afford. You must consider that when you own a golf cart, you're also responsible for all the costs associated with maintenance and upkeep.
Another consideration is that golf carts also take up a good bit of space, so if you don't have roughly 5x8 feet in which to store your cart, you may not want to buy one. Finally, you have to think about how you will transport your golf cart, and whether or not you have the vehicle and trailer needed to haul it around.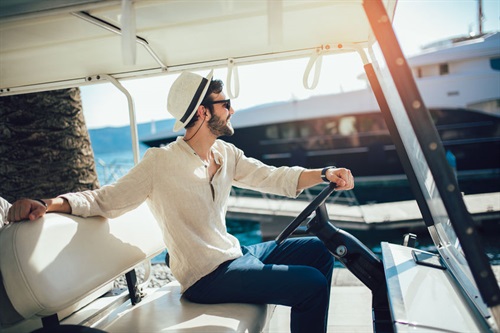 Pros of Renting a Golf Cart
If owning a golf cart sounds like a little more than you're willing to take on, maybe you should consider renting one! Golf cart rentals are all about convenience. For example, at Sun Fun Golf Cart Rentals, you can have your cart delivered and dropped off at virtually any location in Oak Island, Southport, Wrightsville Beach, Ocean Isle, or Holden Beach, NC. This is one of the many reasons why golf cart rentals are ideal for vacations or special events in the Pleasure Island area. If you're planning a wedding or big family vacation, a golf cart rental provides an easy way to haul family members, friends, and supplies wherever you need them.
Golf cart rentals are also an affordable solution if you only need them for a few days or week-long vacation - much more affordable than owning one would be. But the convenience doesn't stop there. When you rent a golf cart, you don't have to worry about cleaning, maintenance, or storage, since we take care of all of that for you!
Cons of Renting a Golf Cart
There aren't many downsides to renting a golf cart. One small con is that you obviously aren't able to add your own unique touch to a golf cart rental since you can't customize or decorate it. The only other downside is that, since you have to schedule your rental and delivery, a golf cart rental may not be available in the event that you would need one last minute.
Whether you're ready to embark on the journey of
golf cart ownership
or just need a
golf cart rental
for a few days, we've got you covered! Give us a call at 910-707-0926 or
visit one of our locations
for all your golf cart needs.