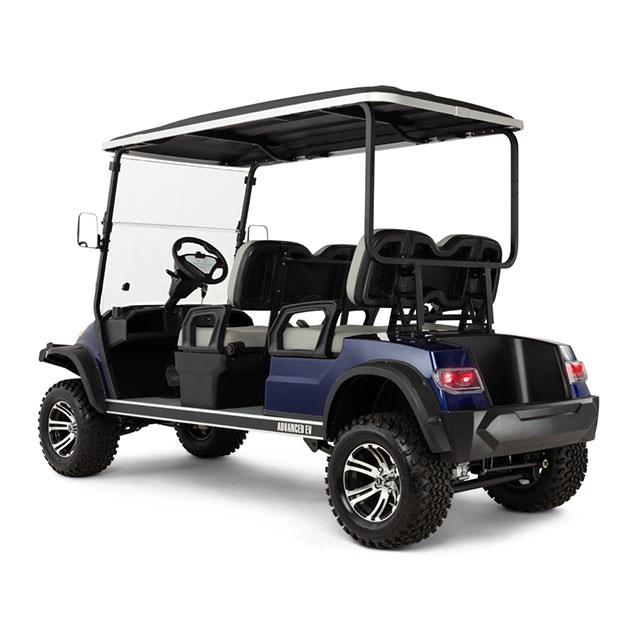 Exploring the Advanced EV Golf Cart Features
EXPLORING THE ADVANCED EV GOLF CART FEATURES
When customers stop by SunFun to browse our golf cart selection, they are always taken back by our impressive selection of Advanced EV golf carts. Advanced EV has become one of the highest regarded golf cart brands across the United States.
Why has Advanced EV earned such a name for itself?
In this blog, we discuss all the features that have made Advanced EV golf carts a customer favorite over the past few years.

ADVANCED EV GOLF CARTS: ALL THE FEATURES YOU NEED…AND MORE!
Depending on the model, Advanced EV golf carts boast the following hard-to-beat features:
Variety of color choices: Metallic Green. Sky Blue. Champagne. These are just a few of the paint color options available when you buy certain Advanced EV models.
Powerful acceleration: With a stellar AC Toyota drive, an Advanced EV golf cart lets you hit the road a bit faster than most other golf cart brands – even over rough terrains.
Smoother ride: Although they reach greater speeds, nothing is lost when it comes to the comfortability of the ride. Speed bumps and potholes? No problem!
Quality LED lights: All models come with great LED headlights, taillights and daytime running lights.
Luxury seat options: Say goodbye to boring old black and gray golf cart seats! Advanced EV offers a range of seat style options that will add an extra bit of class to your golf cart.
Enhanced entertainment system:
From the nifty digital displays to the epic sound system
customization options
, you won't just be traveling from Point A to Point B. Your passengers will be kicking back and ENJOYING the ride!
Easier stop-and-go brakes:
Advanced EV's four-wheel hydraulic disk brakes allow drivers to stop and go with greater ease and less ramp-up jerkiness. Plus, the electromagnetic parking brakes make parking a breeze.
Lithium battery options:
Many Advanced EV models come with a lithium battery options – or at least an upgrade option – giving your golf cart a longer lifespan and carrying capacity WHILE protecting the environment!
Street legal:
All Advanced EV golf carts are built to meet North Carolina law requirements!
BUILD A CUSTOM GOLF CART
SunFun Golf Carts offers a robust selection of Advanced EV golf carts. Don't see the perfect golf cart in our Carolina Beach Inventory? No worries! With our Advanced EV manufacturing facility located right here in Wilmington, we can build your dream golf cart!!
SUNFUN GOLF CARTS | ADVANCED EV GOLF CART MANUFACTURER
Wondering how you can get your hands on one of these spectacular Advanced EV golf carts?
SunFun Golf Carts is North Carolina's ONLY Advanced EV manufacturer! And we sell Advanced EV models right here at our Carolina Beach location.
Browse our golf cart inventory online or stop by our Carolina Beach location to check it out in-person!
READ MORE: