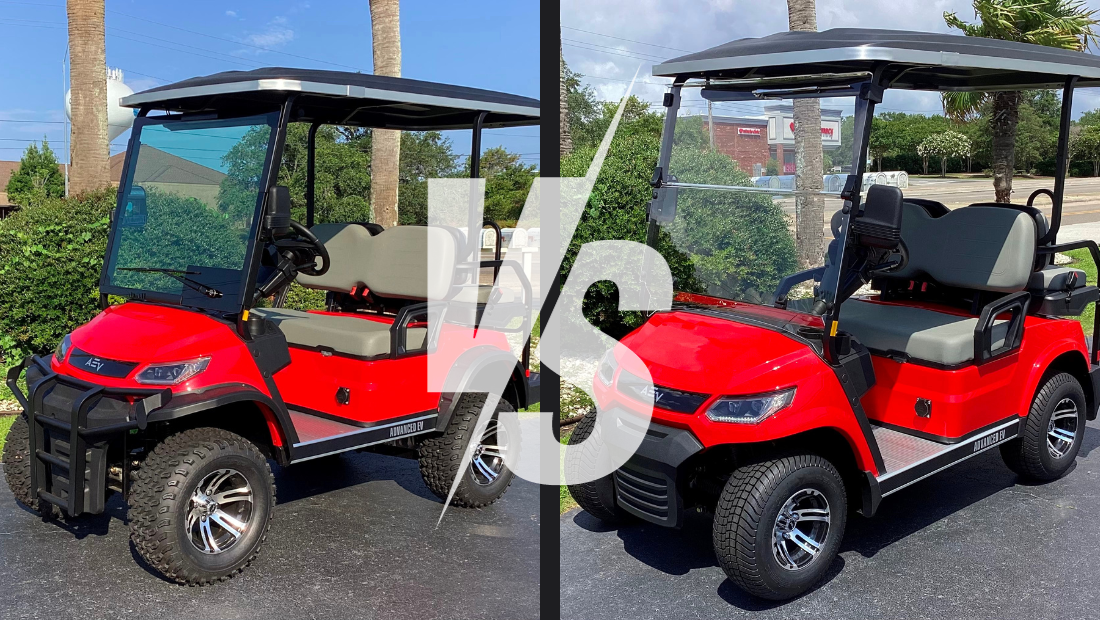 Lifted VS. Non-Lifted Golf Carts: Which Should You Choose?
There are a surprising number of customization options in the world of golf carts. One of the most popular golf cart accessories? Lift kits! Lifted golf carts are a popular choice for golf cart owners who want to ride in style.
But is a lifted golf cart worth the cost and effort?
That is totally up to your personal preference. To help you make your decision, we've listed the primary benefits and drawbacks of lifted golf carts.
WHAT ARE LIFTED GOLF CARTS?
Traditionally meant for the flat, paved paths of golf courses, golf carts have become more versatile over time. Now, golf carts are the vehicle of choice for many hunters, farmers, beachtown residents, colleges and universities, maintenance crews, apartment complex staff, and more.
To accommodate more challenging terrains, the golf cart needed to adapt!
Hence the recent popularity of lifted golf carts. By giving golf carts larger tires, a boost off of the ground, and an enhanced suspension system, manufacturers have created a golf cart perfect for nontraditional travel.
PROS OF LIFTED GOLF CARTS
There are several reasons many golf cart enthusiasts are requesting lift kits:
Better ground clearance: No more fear of "bottoming out" when you hit a speed bump or take an uneven trail. Lifted golf carts are simply above all of that (pun intended).
Off-roading potential: If you'd like to take your cart off of the beaten path, a lift may be worth the price! Of course, a lifted golf cart is still a golf cart – so don't expect to take it mudding or on exceptionally rocky trails.
Seriously sporty style: Looks aren't everything. But they ARE something! And they are definitely worth considering if you're going to spend the money on a personal golf cart.
Smoother ride: You have the improved suspension to thank for this! Lifted golf carts will make those nasty speed bumps feel A LOT nicer.
Enhanced visibility: When the driver rides higher up above the road, they have a better view of surrounding traffic and obstacles.
Easier getting in and out: The seats of lifted golf carts are much more accessible for passengers who struggle climbing in and out of low-seated golf carts.
CONS OF LIFTED GOLF CARTS
Lifted golf carts don't make sense for every golf cart owner. Along with the perks, lifted carts come with a few drawbacks:
Tipping potential: Lifted golf carts have a higher center of gravity. This translates to a greater risk of tipping over around sharp turns, steep slopes, or uneven ground.
Kit & installation costs:
Like all other vehicle accessories, golf cart lift kits cost money – not to mention the price of proper installation.
Increased weight: With bigger wheels and a heavy lift kit, your golf cart has some extra weight. Naturally, this makes your motor work harder – especially going uphill.
Decreased battery efficiency: Not only does the added weight place strain on your motor, but it also sucks up your battery life.
Driver learning curve: The change in center of gravity may be off-putting to some drivers. It can be more difficult to maintain control of the vehicle.
WHEN IS A NON-LIFTED GOLF CART THE WAY TO GO?
For some golf cart drivers, a lifted golf cart is simply not useful or necessary. A non-lifted golf cart is for you if…
You have a tight golf cart budget.

You don't plan to take your golf cart on rough terrains.

You're not concerned about bottoming out.

The sporty look doesn't fit your style.

You are concerned about your golf cart's stability.

You prefer simplicity.
SUNFUN GOLF CARTS | PLEASURE ISLAND GOLF CARTS
Want to purchase a brand new lifted golf cart? Or spruce up the cart you already own with a nifty lift kit? SunFun Golf Carts can help!
We are the most dependable, well-known golf cart dealer and manufacturer in southeast North Carolina. For decades, our team has supplied and serviced lifted and non-lifted golf carts across…
New Hanover County

Brunswick County

And Pender County
Browse our golf cart inventory online or stop by our Carolina Beach location to check it out in-person!
READ MORE: